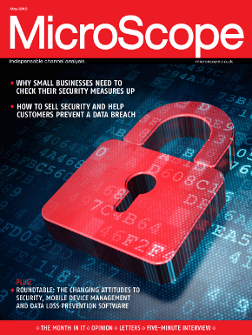 Issue Overview
MicroScope - May 2013
IT security continues to be a vibrant market presenting the channel with lots of potential choices of technology to pitch as well as a wide customer base to aim for. But the key to opening the door is to come to the user with a solution and a consultative approach that will help them achieve their business aims. Access >>>
Access TechTarget
Premium Content for Free.
By submitting your email address, you agree to receive emails regarding relevant topic offers from TechTarget and its
partners
. You can withdraw your consent at any time. Contact
TechTarget
at 275 Grove Street, Newton, MA.
You also agree that your personal information may be transferred and processed in the United States, and that you have read and agree to the
Terms of Use
and the
Privacy Policy
.

What's Inside
Columns

The squeezed middle in the IT jobs market by Billy MacInnes

There has been a lot of talk about the squeezed middle over the past couple of years and as Billy MacInnes finds it is also an issue in the IT jobs world
More Premium Content Accessible For Free
MicroScope: August 2015

E-Zine

An issue looking at how the channel can overcome the skills problems and a chance to hear from a range of leading vendors on how the security market ...

MicroScope: July 2015

E-Zine

An issue looking at the prospects of wearable tech for the channel and just what an EU referendum will mean to the tech industry.

MicroScope: June 2015

E-Zine

The winners of the MicroScope Awards for Channel Excellence (ACEs) are announced and there is a chance to get the latest insight into the ...