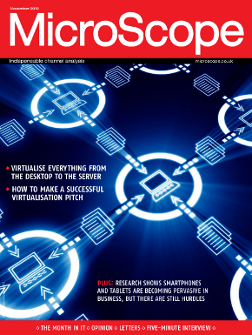 Issue Overview
MicroScope - November 2013
Virtualisation has moved well beyond the server and is now expanding in a new direction from the desktop as the technology starts to crop up in more than just storage environments. This special issue provides the latest insights into the market and what the channel should be selling with the latest from VMWorld Europe and views across the industry about what technology is currently worth pitching. Access >>>
Access TechTarget
Premium Content for Free.
By submitting your email address, you agree to receive emails regarding relevant topic offers from TechTarget and its
partners
. You can withdraw your consent at any time. Contact
TechTarget
at 275 Grove Street, Newton, MA.
You also agree that your personal information may be transferred and processed in the United States, and that you have read and agree to the
Terms of Use
and the
Privacy Policy
.

What's Inside
News

RM exits PC market, leaves 300 unemployed by Alex Scroxton

After 35 years in the trade, RM has called time on its PC business to refocus on its software and services offering, with 300 set to lose their jobs as a result

Columns
More Premium Content Accessible For Free
MicroScope: August 2015

E-Zine

An issue looking at how the channel can overcome the skills problems and a chance to hear from a range of leading vendors on how the security market ...

MicroScope: July 2015

E-Zine

An issue looking at the prospects of wearable tech for the channel and just what an EU referendum will mean to the tech industry.

MicroScope: June 2015

E-Zine

The winners of the MicroScope Awards for Channel Excellence (ACEs) are announced and there is a chance to get the latest insight into the ...