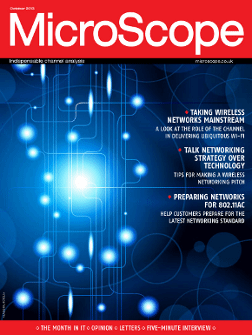 Issue Overview
MicroScope - October 2013
Walk into a reception at a business, the lounge at your friend's home or through the doors into a shop and you expect to be able to connect to wi-fi. The technology is getting to the point where it is not restricted by size and customers across the board are looking to adopt wi-fi, making it a particularly interesting time for resellers that are poised to provide products and services into this market. Access >>>
What's Inside
News

Heavy clouds need optimising for ISV growth by Neil Cornish

Neil Cornish, managing director, M7 Managed Services, insists it is time for hosted providers to come clean, move away from inappropriate technologies and embrace dedicated cloud appliances

The acquisition of Nokia: Steve Ballmer's last hurrah? by Alex Scroxton

Alex Scroxton looks at early reaction to Microsoft's acquisition of Nokia, and asks if it will cement Steve Ballmer's legacy as the man who turned Microsoft into a devices and services company
More Premium Content Accessible For Free
MicroScope: June 2015

E-Zine

The winners of the MicroScope Awards for Channel Excellence (ACEs) are announced and there is a chance to get the latest insight into the ...

MicroScope: May 2015

E-Zine

An issue looking at the potential impact later this summer of the arrival of Windows 10 and taking a closer look at the reasons for the HP and Aruba ...

MicroScope: April 2015

E-Zine

In this issue, we look at how employers can check staff criminal records and get industry views on the progress of the partnership between IBM and ...