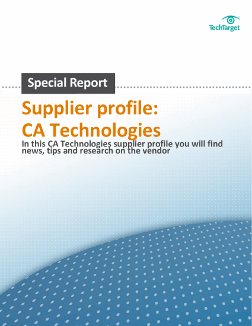 Download Supplier profile: CA Technologies
This CA Technologies supplier profile includes news, tips and research on the vendor.
Inside you'll find an overview, key facts, employee numbers in various locations and the areas the businesses focus on. Additionally, we share the key executives at CA Technologies and its key UK customers. You won't find a more comprehensive, free, profile.
Member benefits:
• Instant access to our library of premium content
• Each month's issue direct to your inbox, free
• Uninterrupted readership of guides and features
• Invites to our exclusive events
• News of our annual industry-wide awards
• And much more
This was first published in June 2013