The recession took its toll on enterprise softwarespecialist SAP with the vendor releasing a set of full year results litteredwith minus signs.
For its financial year ended 31 December SAP reported a 28%decline in software revenues from €3.6bn to €2.6bn and service revenue alsodipped by 3% leading to an 8% decline in total revenues from €11.5bn to€10.6bn.
Net income also took a hit dropping by 4% and the vendor wasalso impacted by a €196m restructuring charge.
But the vendor is expecting things to improve this financialyear with signs that already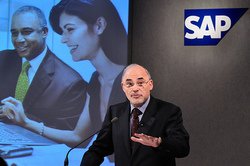 demand is returning.
"Along with margin expansion for 2010, we are also ready toreturn to top-line growth, although the market continues to be challenging and uncertaintyamong customers still exists," said Leo Apotheker, CEO of SAP.
The vendor is forecasting an increase in the region of 4-8%in software and services revenue in 2010.
The restructuring charge, which resulted from the vendorsmoves to trim its workforce and reduce costs, was a sign of a determination tocontrol spending that will not be relaxed going forward.
"For 2010, we will continue to maintain strict cost controlswith a spotlight on further margin expansion," said Werner Brandt, CFO of SAP.