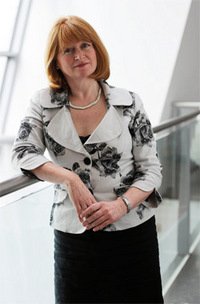 Calyx is currently mapping an acquisition strategy but has expressed early interest in building larger economies of scale in existing operations and getting more involved in software and infrastructure management services.
This week's departure of Calyx Managed Services chief executive Tara Brady, to be replaced by Martin Mackay, completes the management team at Calyx following the rescue deal it signed with Better Capital Fund in September.
Post-acquisition cost cutting is all but over, with the closure of offices in Stevenage and Rainford and the redundancy of around 50 staff including services director Gurav Bhasker and operations director John Hawker.
Calyx CEO Fiona Timothy - who has worked with Better Capital Fund boss John Moulton since 2002, when he invested in her former employer Cedar Software - said the time was right to focus on the market in 2011 and business expansion plans.
"We are looking at the whole spectrum of the market to see who is out there that would enhance our operations, either because they'll give us greater scale or a niche vertical product or service," she told MicroScope.
Better Capital has raised total capital of £210m since December 2009 and has invested a total of £21.8m in Calyx to date. It also owns Reader's Digest and aerospace supplier Gardner.
The channel is ripe for consolidation; a number of firms are operating a buy and build strategy including 2e2, Kelway, Redstone and Blackhawk Investment, to name a few, and Timothy agreed it was a good time to acquire.
"Some companies will be too expensive but we'll be keen buyers; when I was at Cedar I bought nine companies over eight years," she added. "I'd like to get more into the software and infrastructure management end of managed services."
It is unlikely that Calyx will buy small bolt-on businesses as the amount of work involved in taking over and integrating them is as hard as integrating larger deals, if not more so, said Timothy
She added: "We are looking at businesses with a turnover of £10m to £25m."
Business valuations reflect the leaner commercial landscape and 2011 is set to be another challenging twelve months for the channel.
Timothy said market watchers and business leaders are forecasting flat to 5% growth for next year with public sector spending cuts to hit hard those resellers and integrators that are heavily reliant on the space.
"However, it could provide an opportunity as the public sector has to find a way of downsizing its workforce and the only way it will do that is by using IT more effectively," she said.