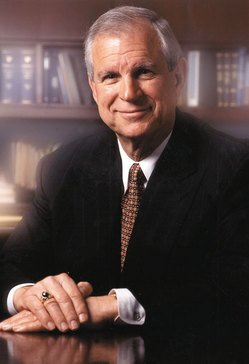 Avnet has acquired Bell Microproducts in an all cash merger for $7 per share, valuing the distributor at $594m (£396.6m).
The deal is based on an equity value of around $252m and Bell's debt position, at face value and net of cash, of $342m at 31 December last year.
Avnet CEO Roy Vallee said: "Bell's position in datacentre products and embedded systems complements Avnet's current strategies and creates opportunities for cross-selling."
"Bell's position as one of the leaders in hard disk drive distribution substantilly increases Avnet's exposure to this product segment, which is currently focused on embedded computing," he added.
Meanwhile, Bell founder Don Bell (pictured) said the transaction delivered "excellent value" to shareholders, as well as enhancing the firm's future growth prospects.
"Given the rising demands of technology markets, the investment required to deliver competitive supply chain networks continues to grow. Avnet's financial resources and global infrastructure will allow the Bell organisation to deliver industry-leading value to our customers," he said.
EuroLAN managing consultant Keith Humphreys said the deal would make Avnet a "serious player in the datacentre space".
The addition of Bell to its portfolio would enable it to take on more established datacentre players, such as Magirus.
Alastair Edwards, principal analyst at Canalys, said that from a European perspective, Avnet stood to gain significantly from Bell's Hewlett-Packard business, particularly in the UK, which accounts for a good proportion of its EMEA business.
He added that buying Bell could offset some of the potential damage from Oracle's decision to take key Sun accounts direct.
"Oracle taking stock out of the channel is a big threat to distribution and Avnet is vulnerable having invested heavily in Sun," he said.
Bell only relisted at the start of the year after correcting account irregularities dating back to the mid-1990s. In its last set of financial results, the distie posted sales of $837m and profits of $12.9m.
It anticipates making Q1 2010 sales of between $795m and $815m, although gross margins are expected to slip due to a mix shift from higher-margin single tier sales and seasonality.