ProCurve, 3Com brands to become a memory
After years of blowing hot and cold over the future of its networking arm, HP ProCurve, Hewlett-Packard has now revealed that the ProCurve brand will disappear from the market and alongside 3Com, will become part of a new business unit called HP Networking. HP detailed its strategy on a confere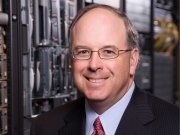 After years of blowing hot and cold over the future of its networking arm, HP ProCurve, Hewlett-Packard has now revealed that the ProCurve brand will disappear from the market and alongside 3Com, will become part of a new business unit called HP Networking.
HP detailed its strategy on a conference call held to mark the closure of the acquisition of 3Com.
The unit will form part of the newly-renamed Enterprise Storage Servers and Networking (ESSN) business, run by David Donatelli ( pictured), with the ProCurve line recast as the E Series and 3Com's portfolio transformed into the A Class.
HP will pitch a V Class line at SMEs, while an S Class line, featuring networking security features courtesy of 3Com-owned TippingPoint - now slotted into the HP Secure Advantage line - will also be available.
Meanwhile, in China, the locally-strong H3C brand will be retained.
HP Networking boss Marius Haas pledged to roll out a single, converged programme unifying elements of both ProCurve and 3Com channels, with "robust training programmes and extensive support".
HP added that it would not pressure resellers dabbling in Cisco product to ditch its rival, a point reinforced by HP Networking EMEA channel sales director, Will Hamber, who said: "We're not going to sit around a table with a loaded gun and tell partners they have to make a choice."
"We've seen from customers a clear demand for an alternative [to Cisco]," Hamber told MicroScope, "and from resellers a clear demand to offer it."
Hamber said he was hoping for as clean a migration to the new programme as possible, and estimated the process would take between six and 12 months to complete.
"We want to keep that business continuity going, so those that have been trained on ProCurve or 3Com will continue to drive those elements. What we don't want to do is upset partners by forcing them to conform to a brand new agenda right away," he explained.
Peter Titmus, Networks First executive chairman, who lost business when 3Com controversially quit the high-end router market in 2000, hoped HP's stewardship would mend 3Com's tainted channel reputation.
"HP will help them fix that problem, because 3Com left a very bad taste in a lot of resellers' mouths," he said. "HP brings some credibility back to the brand."
Keith Humphreys, managing consultant at channel analysis outfit euroLAN, forecast that 3Com's previous channel history would now be "quietly forgotten".
However, he cautioned, "I would like to see a more detailed product roadmap, as there are issues that remain".
HP believes the $2.7bn acquisition, which officially closed last week, will enable it to fill in the remaining gaps in its networking portfolio that up until now have stopped it mounting a serious challenge to Cisco in the networking and datacentre arena.
It claims its Converged Infrastructure strategy will allow the creation of 'Cisco-free' datacentres.
The two vendors fell out in spectacular fashion earlier in 2010, when Cisco turfed HP off its partner programme. This marked the formal end of a relationship that had effectively been on the rocks since Cisco launched its Unified Computing architecture in 2009.
However at one time it was said that HP sales staff were told to push Cisco products at the expense of the ProCurve line.
MicroScope+
Content
Find more MicroScope+ content and other member only offers, here.