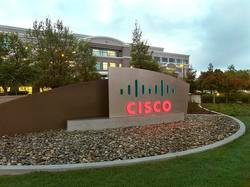 Cisco CEO John Chambers displayed his usual cautious optimism in presenting the networking bellwether's fourth quarter and full-year 2010 results, reporting anticipated growth in both sales and profits but sounding a conservative note on the state of the global economy.
Speaking on a conference call, Chambers said: "The majority of my customers believe the economy is going to continue slowly growing up, but very slowly and not what they would have said even three or four months ago in terms of their expectations."
He predicted average growth of around 2% for the second half of calendar 2010.
"We're not making a call on the economy going down, I think [the] probability [of] double dip or whatever you want to call it [is] relatively low," he added.
However, Chambers continued to urge caution: "You listen to the customers, you watch mixed signals, [the] Fed's comments, etcetera, you say, ooh, this feels a little bit tougher and I'm having probably more trouble reading it than I ever had before.
"I usually have really strong opinions which way something is going to grow, this time it is mixed signals and hopefully [in] another quarter we'll be able to give you a better feel for that," he added.
Turning to the European theatre, where Cisco reported concerns last quarter in terms of growing levels of debt, civil unrest in Greece and government austerity programmes, Chambers admitted that things had not been as bad as feared.
"The European operations did not have as tough a quarter as we thought it might. We thought that Europe had a reasonable shot of growing close to 20%, give or take, and it actually grew at 25%. Balance across Europe was pretty good, even in southern Europe," he said.
Commercial, enterprise and even public sector deals all held up across the region, Chambers added.
Fourth quarter net sales and income just missed analyst expectations, up 27% year-on-year to $10.8bn, with profit up 79% to $1.9bn.
This has already caused some ripples in the markets as talk spread that the technology spending recovery seen in the first six months of calendar 2010 could stagnate.
Broken down, total product revenye of $8.8bn was up 31% year-on-year. Switching sales hit $3.6bn, up 27% over the year-ago quarter, with modular switching up approximately 36% and fixed switching up 20%. Routing sales came in at $1.7bn, a 15% increase, most of it at the high-end.
Advanced technologies, including unified comms, wireless, storage, home networks and video brought in $2.6bn, up 27%. Other product sales hit $924m, up 139% year-on-year.
Total services sales were approximately $2.bn, up 12%, with strength seen in both advanced and technical support services.
Cisco CFO Frank Calderoni hailed a full quarter of sales from Tandberg, as well as strong growth in the vendor's Unified Compute portfolio, where new customers grew 90% sequentially, albeit from a very low base.
Cisco made full-year sales of $40bn, a 10.9% rise on 2009, and posted net income of $7.8bn, up 26.6%.
Looking ahead, Cisco expects sales in Q1 2011 to be up around 19% year-on-year. The vendor will next report on 10 November.
Conference call transcript courtesy of SeekingAlpha.com.