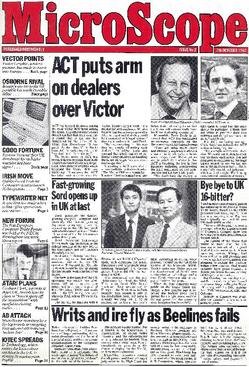 Sadly, the print edition of MicroScope will be closing at the end of the month after 28 years and six months, when we will become a purely digital and online magazine.
MicroScope was launched in September 1982 in recognition of the emerging number of distributors and resellers selling microcomputers. We began life covering the birth pangs of the channel, and throughout the past 28 years have followed the industry as it has matured and grown.
As we prepare to bid a fond farewell to three decades of industry history, we thought it fitting to take a trip back through our extensive archive and bring you just a taster of the channel's history.
Our first print edition is unfortunately lost, but the second edition, dated 7 October 1982, revealed that the then nascent UK IT channel was already a hive of activity.
On the front page, we broke the news that ACT - Applied Computer Techniques, later Apricot Computers - had banned dealers stocking the rival Victor 9000 microcomputer from selling its own badge engineered version, the Sirius.
The firm came under fire from its rivals who claimed its actions were illegal and said it was "over-reacting" and "alienating" its resellers.
Meanwhile, Bolton PC-builder Beelines called in the liquidators amid accusations of large outstanding debts, unfair dismissals and a tantalisingly vague "scandal which could cause severe embarrassment to the Computer Retailers Association".
After the jump, we look at a controversial bid by a UK trade group to ban imports of US PCs...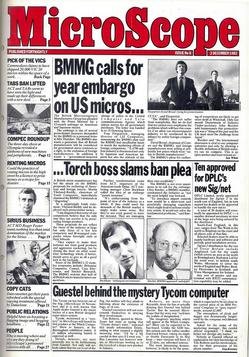 It was a world without cloud, without virtualisation and although the internet existed, the world wide web was still a decade away.
Back in 1982 the UK industry was fiercely local and independent, as this edition of MicroScope from 2 December shows.
The British Microcomputers Manufacturers Group (BMMG), an industry trade body, wrote a personal letter to Mrs Thatcher, urging the PM to enact protectionist measures with a now unthinkable 12 month ban on imports of US and Japanese computers.
The BMMG also wanted a guarantee that all British manufacturers would be considered for government contracts as a right, to the exclusion of foreign manufacturers.
"The BMMG does not suffer from xenophobia, but we cannot over-emphasise the problems which will face this country if we allow our microcomputer industry to be smothered in its infancy by unfair foreign competition," argued LSI Computers MD Tom Fitzpatrick.
The plea did not go down well with everyone, however, as the boss of Torch Computers, Martin Vlieland-Boddy, launched an attack on the BMMG, branding its demands "disgusting".
"These proposals do not reflect the views of the industry at large, but only those of a few less competent and ill-managed companies whose foresight ends at their bifocals."
ACT marketing manager Chris Buckham added his own view, saying it was "embarrassing".
"If they could meet the demands of the British market it might make some sense. But they're not even geared to meet the demand!" said Buckham.
Industry heavyweight Clive Sinclair, a BMMG member at the time, also lent his voice to the condemnation, calling import controls a "short-term and potentially damaging expedient which might lead to serious retaliatory action."
Over the next two weeks we will be bringing you more breaking channel news from the past 28 years, eventually bringing you bang up to date with some of our most recent editions. Keep checking back to MicroScope.co.uk for more.