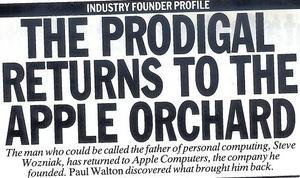 As we prepare to bid farewell to the print edition of MicroScope after 28 years, we're taking a trip down memory lane to bring you some of the highlights, scandals and snippets that have made the UK channel the place it is today.
In the early 1980s MicroScope was riding high on a tide of enthusiasm for computing technology, so much so that in August of that year we scored an exclusive interview with Apple's Steve Wozniak, an almost impossible feat in 2011.
Wozniak was returning to Apple after a two year break, during which time he organised a couple of rock music and technology festivals, which starred bands including Fleetwood Mac, The Cars and Talking Heads and are estimated to have lost him millions.
Wozniak told MicroScope that despite already being a dollar billionaire, he still aspired to lead a simple life: "I've told people who ask me whether or not I've changed that I'm still just a computer engineer inside me. I always was. I can never think what to do with it [the money]. I get a thousand phone calls a year telling me what I can do with it."
After the jump, Acorn IPOs, IBM threatens to pull out of the PC business, and Alan Sugar shakes up the market.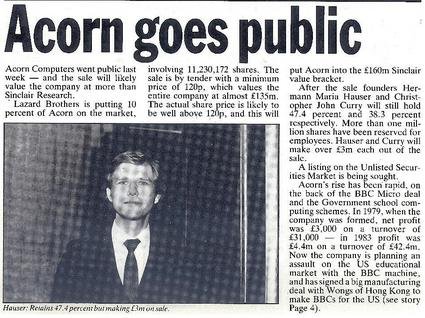 It seems improbable in the 2010s, when companies like Acer and Lenovo dominate, and tablets constantly threaten to upset the apple cart, but in 1983 the UK system builder channel was one of the most powerful in the world.
Take this front page story from October 1983, when Acorn Computers, makers of the ever-popular BBC Micro, announced plans to float on the stock market.
In the following clipping, taken from a 1984 edition of MicroScope, we reported that IBM was on the verge of dropping the PC from its line-up in favour of greater focus on software and services.
In the event, it was another 20 years before IBM sold its PC business to Lenovo...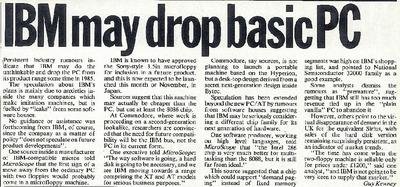 Also in 1984, we covered the entry of Alan Sugar (as he was then) into the PC market with the debut of the Amstrad CPC464.
However, the fledgling PC builder was already causing disquiet in the reseller channel, announcing plans to sell its machines through high street chains such as Rumbelows, a strategy that had already paid off for Amstrad's hi-fi business.