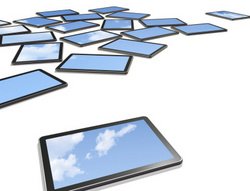 Apple continues to dominate the tablet market with its second generation iPad having a huge impact on sales figures across EMEA.
Shipment figures across EMEA released by IDC show that Q2 exceeded forecasts as the iPad 2 took off and Android Honeycomb-based products got users parting with their cash.
Not far off 4.4m units were shipped in Q2 in EMEA, up from the forecasted 3.7m and up by 82% from Q1.
Apple alone accounted for 2.9m shipments, compared to under 1.4m Android Honeycomb devices.
Acer was one of those pushing the Android option and was highlighted by IDC as having made a decent job in the last quarter and if it had not suffered from some supply issues it would have also been a solid three months of sales from Asus with its Eee Pad Transformer.
RIM, the Blackberry maker, released its Playbook but sales were slow to get going, a problem that also contributed to its disappointing quarterly numbers.
"IDC expects the EMEA media tablet market to continue to enjoy robust expansion, with shipments forecast to reach close to 22m units, representing €9.1 billion in value in 2011," said Eszter Morvay, research manager for IDC's Personal Computing Group.
"The second half of the year will see a further expansion of product availability, which will lead to accelerating competition and more aggressive price points. The Christmas season in particular is expected to be very buoyant with vendors positioning their products as the perfect Christmas gift," she added.
Long-term the analyst house is predicting that EMEA shipments for 2012 will reach 33m units, a 53% increase on the levels expected this year. Driving that will be iPad 3 and more Android devices.
Top 6 Vendors: Europe, Middle East, and Africa (EMEA) Media Tablet Shipments, 2Q11 (000 Units)
| | | | | | |
| --- | --- | --- | --- | --- | --- |
| Vendor | 2Q10 | 2Q11 | Share 2Q10 | Share 2Q11 | 2Q11/2Q10 Growth |
| Apple | 834 | 2.910 | 94.3% | 66.6% | 249% |
| Samsung |   | 308 | 0.0% | 7.0% | NA |
| Acer |   | 268 | 0.0% | 6.1% | NA |
| ASUS |   | 145 | 0.0% | 3.3% | NA |
| Archos | 25 | 103 | 2.9% | 2.4% | 307% |
| RIM |   | 93 | 0.0% | 2.1% | NA |
| Others | 25 | 540 | 2.8% | 12.4% | 2,061% |
| Total | 884 | 4.368 | 100.0% | 100.0% | 394% |
Source: IDC EMEA Media Tablet and eReader Tracker, 2Q11, September 2011