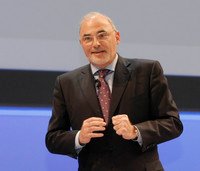 Those in the channel worried that Leo Apotheker, the former CEO of Hewlett-Packard, was going to be short of a bob or two following his decision to step down last week might well revise their opinion in light of his severance package.
To quote an old Blankety Blank game show catchphrase "no one goes away empty handed", even if you have seen the share value of your company almost halve in the 11 months you have been in charge of the tiller.
An SEC filing made by HP reveals that Apotheker will receive not just $7.2m in severance payments but also $3.6m in restricted stock that he is allowed to keep as part of the goodbye package.
In addition to that there was also a bonus of $2.4m for the 11 months service and $300,000 to help him cover any losses on selling his California home as well as some money to fly his things back to Belgium or France if he chooses to head back to Europe.
Apotheker stepped down from the CEO position last week bringing to an end a turbulent couple of weeks when his strategy had come under fire from resellers and customers.
He was replaced by Meg Whitman, the former CEO of eBay, who has already started to indicate that there could be changes to some of Apotheker's strategic plans.