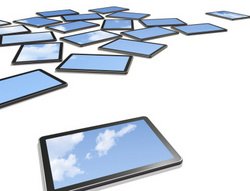 The customer hunger for tablets continues to grow but market leader Apple faces more challenges to its tablet crown in the fourth quarter with rivals, including the latest entrant Amazon, looking to take a larger slice of a growing market.

Apple is not just the only brand to benefit from sales growth over the third quarter with Asus and Acer also enjoying the benefits from the popularity of the form factor.

The latest figures from research analysts Context, in partnership with CCS Insight, indicate that although Apple still dominates the market with the iPad 2 there are plenty of buyers for the Asus Eee transformer and Acer's Iconia Tab.

Apple remained the largest supplier thanks also to better availability and tablet sales grew by 20% between August and September keeping a trend going that started back in April.

The sales of Asus and Acer products remained fairly constant but their share increased as the market grew.

The expectation is that there will be promotional bundles used at Christmas to spark further tablet sales and the arrival of Amazon's Kindle Fire could shake-up the market even further.

"Amazon's Kindle Fire could shake up the tablet market", said Gavin Byrne, principal analyst at CCS Insight. "The Kindle Fire's keen price, combined with the marketing muscle of Amazon's Web site, will attract new audiences to the tablet market."

As the market for tablets becomes more crowded price is becoming one of the main factors guiding buying decisions.
 
"Clear price points and propositions are not yet established", said Salman Chaudhry, mobile analyst at Context "It seems that consumers have tended to play safe and buy on the strength of the Apple brand; however, we are expecting factors like operating systems, apps and interworking with existing devices to become part of the decision-making process."