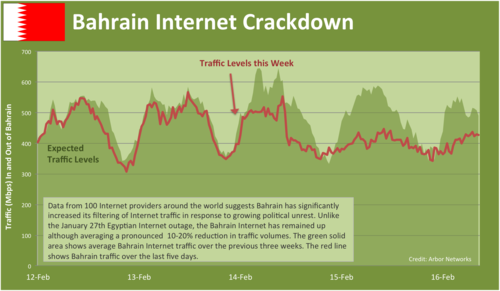 Following the deposition of the Egyptian government in a protracted and at times bloody revolution, the Bahraini government may have got itself into hot water as well, with international concern growing as the news filters out.
The technical bods at Arbor Networks have had their noses to the grindstone again to bring us another tasteful green infographic showing not a complete shutdown - as took place in Egypt - but a definite reduction in internet traffic.
As you can see from the above, a marked 10 to 20 per cent slowdown has been picked up, consistent with traffic fluctuations normally found during natural disasters or major sporting events, according to Arbor, which pointed out that genuine technical problems could not be ruled out.
But, net freedom advocates at the OpenNet Initiative have claimed the declines are consistent with reports that Bahrainis are being blocked from social media sites and video-sharing services.
Now, according to local reports Bahraini ISPs have taken the step of apologising to their customers for the service degradation, claiming the problems are merely due to high usage.
However, these ISPs include government-backed incumbent operator Batelco...
This was first published in February 2011