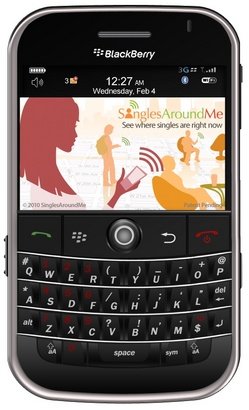 February has well and truly begun, the days are lengthening and soon there will be a whiff of spring in the air...
But first we have to make it through Valentine's Day.
The first tech firm to have the, er, honour, of attempting to pin a press release onto the annual festival of romance - which commemorates the grizzly slaying of an early Christian in ancient Rome - is the company behind the iPhone dating app SinglesAroundMe.
The matchmaking outfit, which was founded by internet entrepreneur Chris Klotz, will be launching its app on RIM's BlackBerry platform on this most appropriate of days.
Briefly, the app is the first to plot wayward singletons on a Google map in real time, and allow other users to view those nearby using their GPS.
It also includes a tool that allows potential lovers (or stalkers) to track their intended...
"Online dating is old school," says Klotz. "This is the next frontier. It's the new way to date, social networking in real time, live and interactive."
The app's creators claim it's the perfect, no-pressure way to find other singles at a time of year that can be very depressing for those that give a damn.
So, have you got a spurious Valentine's Day related technology press release? MicroScope's bloggers are waiting to hear from you!
This was first published in February 2011