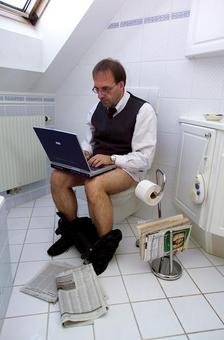 We start the week with a scatological health scare truly worthy of a certain British newspaper; research conducted by phone comparison site Mobiles Please has concluded that mobile phones can indeed give you haemorrhoids.
A survey of smartphone users, conducted for unknown reasons, has revealed that 82% of us regularly use our mobiles on the loo, with iPhone users the worst offenders, spending one minute and 40 seconds longer on the toilet than others.
It seems rather a lot of us are passing time - as well as other things - with a plethora of apps, games, and websites such as Facebook and Twitter.
Fortunately, only 8% of respondents admitted making calls from the bog, although 17% said they would answer an incoming call, and worryingly, 1% of respondents said they had made a video call whilst doing their business
But whatever you're up to, according to the health experts consulted by Mobiles Please spending too long sat on a cold, hard surface can up your chances of being afflicted by this most embarrassing of ailments.
I have to say, I always feel quite embarrassed when I hear the clack-clacking of Blackberry keys or the squawking of Angry Birds (or was that something else entirely) emanating from within a cubicle.
Maybe, for the sake of the nation's bottoms - not to mention the germs that must accumulate on the touchscreen - it's time to break this rather unpleasant habit for good.
Photo courtesy Fotex, Rex Features
This was first published in October 2010