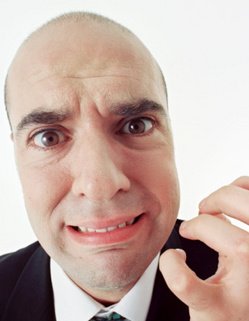 I've never been to Thailand, so I found myself on Amazon recently, browsing travel books like Thailand Diaries.
I was about to buy it when suddenly, a cold hand clutched at my heart. I became paralysed with fear.
What if they take the order and don't send the book? What if someone hacks into Amazon and steals my banking details?
What if Simon uses this computer while I'm at lunch, and sees all the dodgy stuff I've been browsing on Ebay and Amazon? [too late - Ed]
What if the book's rubbish?
This is where businesses need an IronKey.
It's a USB disguised as a concealed weapon! It's shielded in a solid, tamper-resistant and waterproof metal casing that could stop a bullet, never mind a hacker.
The IronKey Personal USB (the one for consumer use) comes with military-grade encryption and easy-to-use identity management and password manager.
[What exactly is 'military grade encryption? Is that a made up term that means nothing, like paradigm shift? Is there such a thing as a military grade paradigm?]
I like the idea of a secure private browser. So I can surf anonymously, without any marketing creeps gathering information on me. It also protects my password when I go online, says the vendor.
So, it'll be handy if I do get to Thailand and need to transfer funds. Or indeed if I'm still in Britain, and don't want people snooping at my Amazon account.
PS. Ironkey has passed a number of 'unbreakable' tests, apparently. Don't tell the hackers that, as it's like throwing down a gauntlet to them.
Photo courtesy: BananaStock/ThinkStock
This was first published in August 2011