Childhood dreams and sports sponsorship
Sometimes you wonder whether a sponsorship deal has been struck to fulfill a childhood dream of a CEO or marketing director or simply to widen the public awareness of a brand. You can often see the eyes of those responsible for the numerous deals between tech companies and sporting outfits glaze ov
You can often see the eyes of those responsible for the numerous deals between tech companies and sporting outfits glaze over as the enter the stadium or take a ringside seat.
Years ago talking to executives from TDK who were sponsoring Crystal Palace Football Club at the time the question of why they had opted to back the club came up in conversation.
No one it seemed knew why with the then UK managing director, if memory serves me well, revealing he was a Reading fan. The brand might have got seen emblazoned on the team shirts but the corporate box was devoid of a passionate executive who was cheering on the team.
But in some cases the love of the club or sport goes deep. Those who went to see Portsmouth in the days when financial troubles were not on the agenda as a guest of Oki will have understood the passion the then managing director Chris Gill had for the team.
So it was with a wry smile we studied the photograph that came into accompany the announcement that Kaspersky Labs has formed a
technical partnership with Scuderia Ferrari Marlboro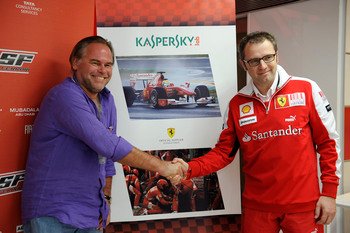 . Was this a branding exercise or could it be that perhaps it was the moment when a childhood dream was realised?
When you look at the picture it's hard to tell at first who is the petrol head racing nut and who is the security software specialist. CEO and Founder Eugene Kaspersky looks ready to get behind a wheel of anything Ferrari can offer him.
Having only met Eugene once and mainly talked about his business it's hard to say for sure if there lurks beneath childhood memories of pushing red cars across floors making noises and pretending he was at the wheel of the dinky Ferraris. But next time we meet I will ask him, half suspecting what the answer will be.
MicroScope+
Content
Find more MicroScope+ content and other member only offers, here.