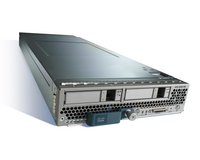 Regular readers will recall that the other week, Cisco certified data centre distie Magirus as the first Cisco UCS B-Series Authorised Configurator in Europe.
Cisco has awarded the same designation to Avnet TS in the US and Canada, enabling it to configure, assemble and test pre-built base UCS B-Series blades, increasing channel effectiveness in delivery of high margin data centre set-ups.
Like Magirus, Avnet had already been certified as a C-Series configurator earlier this year.
And like Magirus, Avnet was brought on board by Cisco to specialise in the vendor's data centre products.
But with borderless networks and seamless international installations increasingly the order of the day, I wonder if Cisco has plans to jump on the bandwagon.
Remember that to date, it has not handed the designation to its global disties Comstor, Ingram Micro and Tech Data.
Would it not make sense to let Avnet, with its sizeable EMEA presence and scale, start selling Cisco here, too?
Photo courtesy of Cisco Systems, Inc. Unauthorised use not permitted.
This was first published in December 2010