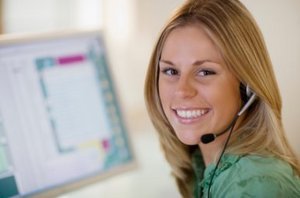 Cloud computing could save the NHS a fortune
The NHS wants to save £20 billion by 2013. In a bid to achieve this, it has given the NHS a 'QIPP challenge' (which stands for quality, innovation, productivity and prevention. Or, in other words, maintaining the quality of patient care, while watching the pennies).
From my experience working at London's Brompton Hospital, I'd say one immediate way to effective cost savings would be to clamp down on people nicking pens, pencils and printer paper. Still, I've gone now, so maybe there's no need.
One of the easy wins, in my experience, would be concentrate on the medical secretaries. There's hundreds of them in every hospital, probably more secretaries then there are consultants.
Each of these is dedicated to typing up all the notes that a medical expert (everyone from surgeons to...) has dictated into their recording device. The tapes and MP3s go back to the secretaries, who move with all the speed you can expect from someone who is interpreting another person's ramblings. These typewritten notes are then emailed back to the doctor, who has to spend just as much time again, correcting them.
The cost of duplication of effort by both parties is enormous. Medical secretaries, being a specialized career, don't come cheaply. The hourly cost for doctors, for obvious reasons, are even higher.
How much more efficient would it be if the doctor's dictation was translated directly into text by a machine? By taking out one time-consuming leg of the process, it could save at least an hour from every transaction. This would not only save the NHS a fortune, it would help reduce the time taken to update patient records and issue letters to patients following a consultation.
We don't have the exact figures for the NHS to quantify this. But figures from Nuance Healthcare in the US show that twenty healthcare organizations from across the U.S. have already saved one million dollars or more in transcription costs as a result of implementing the cloud-based eScription platform for computer aided medical transcription.
So with the QIPP challenge in mind, you have to wonder - if they can do this in Maine Medical Centre, imagine the savings they can achieve at The Royal Free Hospital in Hampstead.
This was first published in June 2011