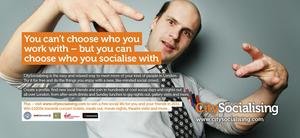 Here's the Office Oddball, the official mascot/character of a new socialising network for city types.
The advert was created by Bloodybigspider, the ad agency that CitySocialising hired to promote the site, using money from its £1 million funding budget from VC backers Profounders Capital.
Wonder what moniker The Office Oddball would choose for his advertising agency?
Something achingly and self consciously zany perhaps? Something like Bloodybigspider, we think. With Brent Hoberman on board, surely a better name would be LastOrders.com

This was first published in January 2011