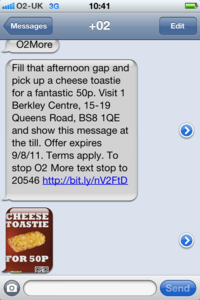 O2 Media has launched a scannable smartphone discount voucher campaign for the sandwich chain Subway, using O2 More's location-based texting service 'You Are Here'.
Targeted O2 More consumers will be able to redeem MMS discount vouchers by scanning their smartphones or tablet devices in Subway Stores.
This is a brilliant idea. Dammit.
I had this idea a couple of months ago. I mentioned it in the pub to one of my friends, who's in mobile development, but he said he was 'snowed under'.
Ha! Now, a couple of months later, O2 launches a very similar scheme. Co-incidence? I don't think so.
I'm too mortified to read any further, but here's some details of how the scheme works. It's going to hurt me to edit this information.
As part of O2 More the campaign allows the company to directly track redemption figures from the offer. [OK, fair enough, I didn't think of doing this, so credit to O2 here. Carry on]
'You Are Here', O2 Media's location-based texting service, works by alerting opted-in O2 users to the latest Subway Stores offers via text message when they approach a local store.
The technology works using 'geo-fences' which are set up around Subway Stores; when a customer enters the target area they automatically receive an MMS.
[That's quite clever. I had no idea you could do that!]
Tom Hosking, head of O2 More at O2 Media, says Subway has a great attitude to mobile.
Ha! So have I, if you'd only have listened to me.
"Partnering with such a recognisable brand," says Hosking, "a brand that is devoted to contactless technology has allowed us the chance to offer this industry first in voucher redemption."
D'uh! It's not rocket science mate! Apart from the bit about redemption figures.
" Completing the whole customer journey by being able to offer redemption figures to our clients is an important breakthrough for O2 Media," says Hosking.
Well, OK, fair enough. Well done. Everyone will be doing it soon. Just remember, I had the idea first.

This was first published in July 2011