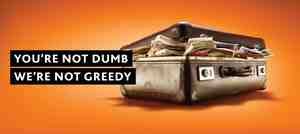 Tru, formerly known as Truphone, is a mobile network operator that promises you the option of making mobile calls and internet searches while you're abroad, without getting trollied by the mobile roaming charge racket.
I bought one of these from EasyJet, just before we landed in Barcelona for Mobile World Congress. I hardly used the SIM card, but when I went back to Barca for next year's conference, all my credit had been wiped. So I had to spend another twenty quid. And guess what, that doesn't seem to be on the card either.
At least with the mobile roaming charge racket you actually get to make phone calls!
Anyway, Tru has promised to look into this.
Still, for what its worth, Tru has a new offer.
If you are planning on travelling to either the US or Australia Tru can offer you mobile calls at local rates.
Even if you are not travelling to the US or Australia, Tru claims it will save you between 30-60% in Europe - and offers competitive rates all over the world too. According to them.
Hmmmm.
Tru has offered to give us a trial Blackberry and SIM card. Which I'm sure would save money.
As a customer though, the experience was questionable.
This was first published in April 2011