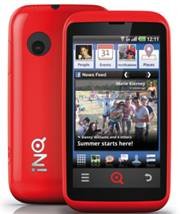 Here's the new INQ Cloud Touch, which is now available for £12 per month and promises you unlimited access to your Facebook Friends. Wherever you are.
Unlimited? Everywhere? Even on the train? You'll have to wait for our review to come out. They're biking a handset over this morning.
I'm so excited. OMG!!! (as they say in the playground. And in the boardrooms of media companies).
Here's the blurb. Will it live up to this billing? We'll have to wait and see.
COMPANY BLURB BEGINS
The INQ Cloud Touch is a touch screen device, running on Google's Android operating system, providing super-fast access to all the latest functions and apps.
It uses Facebook's single sign on service, so you'll sign in once to Facebook when you first set up the phone. From that point on, your News Feed is displayed on the Home screen, where you can see videos, links and status updates as well as live icons and deep links to Facebook Chat, Friends, Wall and Messages.
The INQ Cloud Touch uses Facebook's social graph API, allowing users to keep up with the friends they interact with most just by tapping the People icon. 'Events' displays your Google and Facebook events side-by-side in your phone's Calendar, as well as notifying you of Facebook friends' birthdays.
Want to show off about the coolest places you've been visiting? Users can check in to their favourite shops, restaurants and clubs with Facebook Places, straight from the Home screen. [Yuk! - Ed. Mind you, this isn't aimed at miserable buggers like me.]
Available in white and red at launch, INQ keeps in tune with the latest colour trends from the catwalk to consumer trends. [Why on earth would you want to do that? - ed]
INQ worked with the Brooklyn-based artist and designer, Linda Zacks, to design the packaging.
The display is a full HVGA screen touch device and packs a 5-megapixel autofocus camera with VGA video capture too.



The mobile also comes pre-loaded with Spotify for easy music-streaming. Spotify Premium users can search for millions of tracks, create playlists and share tracks with friends on Twitter and Facebook.
The INQ Cloud Touch will be available from just £12 per month with unlimited data on Talk Mobile (+ 200 anytime minutes and 200 texts). The tariff is available exclusively online until the end of May 2011.
END OF BLURB
Seems like a good deal.
Hang on, if you're restricted to 200 minutes and 200 texts, how is that 'unlimited'?
The price starts at £12 a month. Presumably, once you're hooked, it'll rise accordingly.
This was first published in May 2011