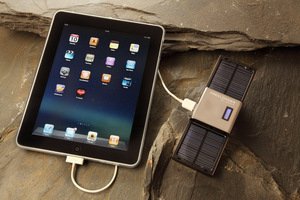 Freeloader says its new solar charger is an 'attractive and practical charging solution' for all gadget and travel shoppers.
Is it? I've used solar chargers before, and they were more trouble than they were worth.
I'm all for being green, but I would never have got a return on my fifty quid investment, so I gave it away to my lefty brother for his birthday. The box was still in good condition, so he didn't notice.
That was a few years ago. It's quite possible that technology has matured now.
The new FreeLoader Classic from Solar Technology International collects 25 per cent more power through its solar panels, the maker claims. It charges all mobile gadgets and it now only costs £39.99. Will you ever get that investment back though?
For additional reseller revenue opportunities, the Freeloader Classic has a number of accessories such as a Super Charger and an AA battery charger. Solar Technology makes a complete range of Solar Chargers to suit a multitude of power requirements, all of which have been recently upgraded to include new electronics and more powerful solar panels.
Solar Technology International Tweet them on @SolarTechInt
Here's the techie bit
150mA premium quality crystalline solar cells

1200mAh environmentally friendly Li-ion battery.

Charge Freeloader Classic using its solar panels in 8 hours or via a PC in 3 hours

Supplied with a master cable and nine adaptors to fit the following:

Mini USB - Motorola, Blackberry, Smartphone, iMate etc

Micro USB - Motorola, Blackberry, Nokia etc - the new "standard phone adaptor"

4mm straight jack - PSP, TomTom, EBook etc

Nokia 3.5mm straight jack

Nokia 2mm straight jack

Sony Ericsson - wide adaptor

Samsung - G600 series adaptor

LG - Chocolate, Prada etc

DS - DS Lite

USB socket in built to allow connection from devices with their own USB charge cable - e.g. Apple products.

Aluminium body

Supplied with detailed user manual
Size - 123x62x17mm
Weight - 124g
This was first published in March 2011