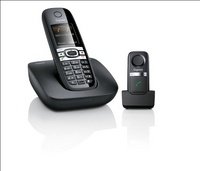 I don't know about you, but I hate wearing headsets and those ghastly ear things. There must be a nice way to be handsfree.
Gigaset has just released the latest handsfree home phone, the Gigaset L410.
Unlike an ungainly headset, the L410 does not attach to the ear but is simply clipped to clothing and, weighing just 30 grams, is hardly noticeable, meaning you no longer have to compromise on style.
They could have made it a bit more stylish though. Why not make them in nicer colours? Or in the shape of a brooch or something. Surely a nice pink flower brooch style handsfree gadget would accessorise any outfit!
The end result is that users are able to take care of other tasks in the kitchen whilst simultaneously making a call - whether that's loading the dishwasher, making a coffee or simply cooking.
This was first published in August 2011