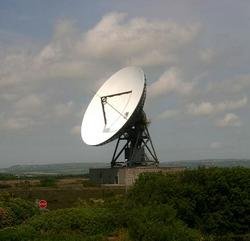 This column is always happy to see networks being pushed into service for the advancement of science, and in this spirit we can report that two years after its dishes were mothballed, the historic Goonhilly Satellite Earth Station in Cornwall will soon be operational once more.
The site owners BT today announced that they have leased the station to a consortium, Goonhilly Earth Station Ltd (GES) for use at the forefront of radio astronomy projects and deep space network comms.
The project was the brainchild of Ian Jones, MD of space sector company Orbit Research, who is now CEO of GES.
The consortium, which includes QinetiQ, the UK Space Agency and the Harwell Inernational Space Innovation Centre, plans to upgrade the existing antennae to enable communication with space missions.
It has also partnered with Oxford University to probe the origins of the universe in a project that will see it link up with the e-MERLIN network run out of Jodrell Bank in Cheshire.
GES also hopes to reopen the site's visitor centre as a space themed exhibit.
Goonhilly, and in particular its 25.9m diameter dish Arthur (the first open parabolic dish in the world) played a pivotal role in the development of satellite communications, not just in the UK but worldwide.
It beamed the first ever satellite television pictures into Britain in 1962, and went on to broadcast the Apollo 11 Moon landing live, among other historic events. More recently, it played a pivotal role in providing alternative routes for data after US comms networks were damaged in the 9/11 terror attacks.
Arthur is a grade 2 listed structure, and as such cannot be demolished, so it is fantastic news to see it being revived for such a worthy cause, and its history is not lost on Ian Jones, who said: "As a child I can remember being inspired by the Apollo missions - my work as a satellite communication design engineer brought me to Goonhilly to design, build and test mobile satellite communication systems."
"I want Goonhilly to continue to provide inspiration to the next generation of scientists and engineers. It is our vision that the UK will continue to be [a] recognised world leader in space science," he added.
Photo courtesy: Chris McHugh/Rex Features
This was first published in January 2011