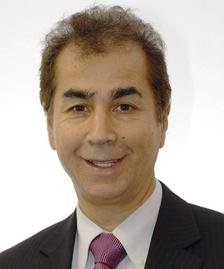 During the last heady days of the economic boom, when a cloud was still a big grey thing that rained on you, many an IT expert was going about with the words 'green IT' on his or her lips.
But come the recession, concerns over carbon footprints and greenhouse gases for their own sake evaporated as everybody suddenly found they had far deeper problems to worry about.
Green IT became less a concept in its own right, and more 'a nice to have' feature.
But with the new CRC Energy Efficiency Scheme causing waves in the industry its now time to reconsider how a well-implemented network strategy can help your customers tick the right boxes.
Last week I spoke with Comtek CEO Askar Sheibani (pictured), who recently took the wraps off a new lab at his Deeside base.
In the past 12 months, Comtek has acquired 300 tonnes of Nortel equipment - including the entire contents of its training lab in Munich - which had been destined for scrap, and shipped eight forty-foot containers to north Wales where it is being used to help firms extend the life of their Nortel kit.
"The companies that bought Nortel weren't interested in the infrastructure, they just wanted the technology," says Sheibani. "But what we are saying is that they should produce product that lasts longer, maintain support for it and repair it."
Sheibani contends that society as a whole and the IT industry in particular, is far too wasteful and despite the positive impact of WEEE regulations still disposes of electronic equipment with a cavalier disregard for both the environment and the resources - such as the hard to come by minerals known collectively as rare earth - used to build it.
He hopes to provoke a grass roots reaction within the industry by appealing to end users to bring pressure on their suppliers to appeal to the vendor community to, in turn, improve support for refurbished and repaired goods.
Extending the life of comms equipment is top of mind at a new project launched by Edward Robertson, a web development agency in Darlington.
With a plethora of companies now trading that will recycle discarded handsets, such as Cash4Phones, Envirofone and Mazuma, among others, the agency has set up a comparison website for recyclers.
Dubbed sellmyoldmobilephone.co.uk, the outfit is hoping to push more people into recycling unwanted handsets by making it easier for them to get the best price.
Many of these phones end up in developing countries, where they can provide vital communications links for people unconcerned about the latest feature set.
This was first published in November 2010