HP may hit reboot button on tablet project
It didn't take long. We're already starting to hear that HP may be dropping development of the Windows-based mobile Slate device it showed off at CES earlier this year. This comes thanks to TechCrunch, which broke ranks last week to posit the end of the Slate project after the vendor picked up P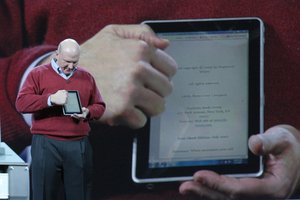 It didn't take long. We're already starting to hear that HP may be dropping development of the Windows-based mobile Slate device it showed off at CES earlier this year.
This comes thanks to
TechCrunch
, which broke ranks last week to posit the end of the Slate project after the vendor picked up Palm's webOS operating system.
TechCrunch's bloggers think that webOS will be a challenge to port to a tablet device - although they add that HP will probably have a bash at it.
Some analysts are taking the opposing view, noting that using webOS over Windows 7 could allow HP to set a cheaper price point for its device and will give independent app developers an easier ride.
However the downside is that this move could set the Slate project back a long time and will allow Apple to further cement its position in the space. Note that Apple now claims to have sold a million iPads, so there will be some catching up to do.
What this means for HP's relationship with Microsoft is unclear, but after CEO Steve Ballmer ( pictured above) demonstrated a prototype version of the Slate at CES this year it surely has to smart a little. But for the sake of harmonious relationships Redmond will probably just have to suck it up; HP sells millions of Windows PCs annually, after all.
Full MicroScope coverage of the HP Palm acquisition
MicroScope+
Content
Find more MicroScope+ content and other member only offers, here.