Technology gets everywhere and the reliance some people have on it is now almost total. But there are times when even IT cannot be blamed.
Take the shark attacks in Egypt that are ruining things for tourists and keeping the authorities around Sharm el-Sheikh on their toes. One theory is that to spoil things for their Arab neighbours it's the Israeli secret service Mossad behind the attacks.
The theory goes that the sharks are monitored using GPS and have been planted in Egyptian waters and because they are tracked can be followed wreaking havoc a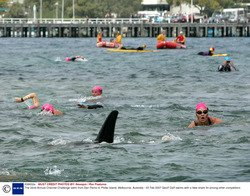 long the coastline.
Although experts have dismissed the theory there are plenty who believe it, and the apparent discovery of a small GPS device by a diver has not done much to dampen the calls for more information from the shark manipulating Mossad.
The shark attacks do seem strange in waters not usually associated with the large man eaters but quite why people have resorted to conspiracy theories to explain the issue is not clear either.
If Mossad are behind the attacks then that has to be seen not just as smart but the opening up of warfare on a fresh front. Could I suggest before anyone gets there and attaches the GPS trackers the Brits go and plant the flag among the lion population.
Photo courtesy of Newspix/Rex Features
This was first published in December 2010