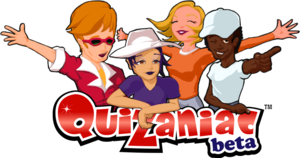 Quizaniac is an online quiz you can play on your mobile, for cash prizes, where you can bet on yourself.
Click here to understand how a multiplayer real time trivia game comes with a betting twist.
It's basically a quiz game, where you can gamble on yourself.
It sounds brilliant to us, but we can see why many people might think it's 'just another mobile app'.
But, imagine the marketing benefits this might have.
Think how channel managers might use it. If you're having trouble getting people to digest any information that you desperately want to impose on them, your lessons might be more acceptable if delivered as a quiz.
Maybe Quizaniac could offer a more interactive way of learning. Especially if there's a chance to show off or win prizes.
You can devise your own quizzes too.
So imagine, say, you're the channel manager of some new virtualisation outfit and you want partners to learn about some service you are pushing. A quiz might provide a good incentive for the partners to do their homework.
The security and legal sectors could use this. Compliance officers often struggle to get people to read their tedious documents about new regulations.
Law firms have the same problem convincing people in the company to read their latest dirges. Personnel officers (or human resources officers, as these buffoons insist on calling themselves) have the same problem too.
In all these cases, an online test, using Quizaniac, could be the spoonful of sugar that makes the bland corporate medicine go down, says Pierre Thiercelin, CEO of Social and Gaming, FatMarmots.
Quizaniac from Quizaniac on Vimeo.
Don't get Fat Marmot Ltd confused with this fat marmot
This was first published in June 2011