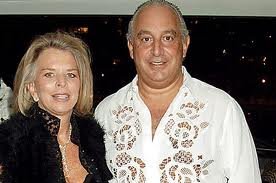 Here's Tina Green, who earns billions every year as the big name at retail giant Arcadia. That bloke next to her is her husband, Philip.
Philip Green was on TV recently, being interviewed about his multi billion pound retail empire. He was treated like a god by the interviewer, as if he was some retail guru.
But, if you check the company accounts, a different picture emerges.
The accounts seem to suggest his wife does all the work. She is paid a fortune - so much money that Lady Green has to live in tax exile in Monaco.
Her husband, for all his big talk, is paid a relative pittance. Which suggests to me that she might be the brains of this particular business.
Is it fair if he takes all the credit, while she does all the work!
Similarly, there are many under rated IT companies whose achievements need wider recognition.
Take Extreme Networks. Their WAN Optimisation service sounds a bit boring, but it saves companies a bucketload of money on bandwidth. When you consider that it can compress a Microsoft Powerpoint or Excel file by 90 per cent, that represents a huge saving. It's still a bit broing though. But it makes the sexier apps, like VoIP and video, more viable. So maybe that's one way of selling it. Capture people's attention by talking about the fashionable apps, and sell them something less flashy in the meantime.
If only Extreme's software could compress Sir Philip Green!
This was first published in January 2011