It's not often you find yourself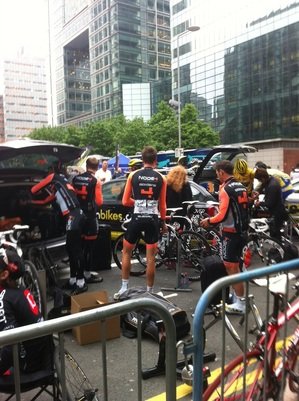 cheering 'Come on Node4' but pop along to a cycling race and you find those words forming in your mouth.

Last night saw the seventh stage of the Halfords Tour Series, am eleven stage series of races that takes place across Britain over the last couple of weeks of May and the first few in June.

Canary Wharf was the backdrop for the stage, which comprised an hour's frantic racing round a short but technically demanding course. Among the teams represented was one which had as it's title sponsor datacentre provider Node4.

The tech industry is becoming more involved in cycling and as well as Node4 at the Tour Series you could have watched team NetApp riding in the Giro D'Italia last month as well as watching Barracuda's involvement with the Garmin team.

The industry is getting involved beyond the track and last night the hoardings included several promoting channel cloud specialist Outsourcery.

With more people in the channel cycling and more corporate sponsorship taking place we surely can't be that far away from describing road cycling as the channel's sport?
This was first published in June 2012