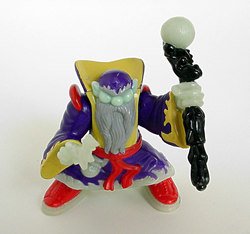 Once upon a time there was a kingdom where people lived and worked and where software was sold by skilled and happy resellers.
A wizard, named Internet, came along and said some magic words, and people discovered they could also download software without having to get the box. The resellers liked it reasonably enough because they could automate license renewal collection.
The problem was that the wizard wasn't satisfied with being able to offer software over the web and started brewing up even grander plans. After a while he came out and started telling everyone in the land about this thing called the cloud.
The King muttered something about the old wizard, dear departed ASP, having said something similar but no one heard him and fireworks and feasts were held to celebrate wizard Internet's latest way of delivering software.
So applications in the cloud started to become the thing and the wizard spoke at conferences, popped up on analyst calls and even started a column in a few magazines to talk about the future being the cloud.
Not that many people understood it, some even said the wizard didn't himself, but bit by bit talk of the cloud swamped the kingdom.
One by one people started to use the cloud. They signed SLAs which said that things would be fine and service provision would work out. But they found that performance was a problem. So much so that a lot of them said they would not do any more cloud for a while.
The wizard blamed dragons, badly built computer systems owned by the customers and some of the King's IT department for failing to implement it properly. But the dissatisfaction with cloud spread.
At least that's what a survey from Compuware suggests.
The interesting thing going forward is to find out how the story ends. Does the Internet wizard end up slumming it in the dungeon or does the kingdom put everything into the cloud and live a happily hosted ever after?
This was first published in September 2010