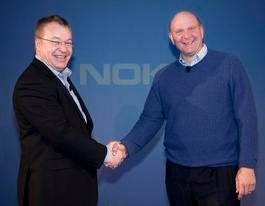 The deal between Nokia and Microsoft to make Windows Phone 7 the primary operating system for the mobile phone maker's products is opportune for both businesses, writes Billy MacInnes.
As we have seen, Nokia's Symbian OS has been struggling in the smartphone market while Microsoft's efforts in this space have been dwarfed by the success of Apple, BlackBerry and Google's Android OS.
Announcing the deal, the companies said they would "build a new global mobile ecosystem" and "disrupt" the other mobile ecosystems.
These, they conveniently neglected to mention, have either already been built or are much further advanced than the Nokia/Windows Phone 7 one.
There's no doubting the scale that both companies can bring to the deal but there's also no getting away from the underlying perception that this is a "coalition of the losers".
It looks a bit like the last two single people at the party getting together for the final dance.
There's also an unfortunate undercurrent in the fact that Nokia's new boss, Stephen Elop, who has been the primary driver for the change at the mobile giant, used to work for Microsoft's CEO Steve Ballmer.
Given the size of both businesses, it would be foolhardy to write off their ambitions for a "global mobile ecosystem", but equally, as both companies have already found out in their separate (failed) attempts to build a presence in the smartphone market, size isn't everything.
This was first published in February 2011