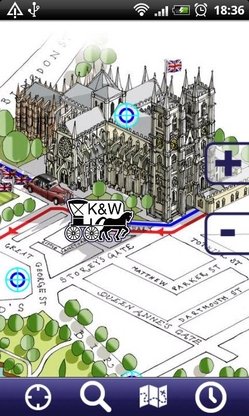 With just three breathless days to go until the wedding of the century, we're pulling out all the stops to bring you the latest network and mobility innovations to help you get the most out of the big day, which will see the splicing of an unelected future head of state with the heiress to a mail order party supply fortune...
Hopefully by now you'll have splashed out on your commemorative Union Jack handset and draped your data centre with bunting, but just in case you felt your preperations lacked a certain je ne sais quoi, app developer The Appstillery (see what they've done there?) will come to your rescue.
The Appstillery has today launched iDo, an Android app, a GPS mapping programme that will show not only the location of Wills and Kate as they are paraded before the masses, but also your own location relative to all the fun, just in case the flag-waving crowds aren't enough of a clue.
Featuring hand-drawn maps by artist Katherine Baxter, iDo also features fun facts about some of the key tourist sights along the parade route, information on bus routes and underground disruption, and a live Twitter feed to make sure you don't miss the 140-character ravings of people watching it on telly.
Said Quintin Cutts, Appstillery MD: "We wanted to create something that would allow everyone to join in. For people around the world, iDo will allow them to track the progress of the procession. For those rpesent in London itself we're ensuring all of the important local information, travel and services are there."
iDo is available now on the Android market.
This was first published in April 2011