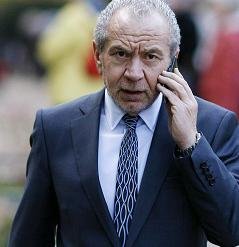 A developing story this morning from the world of Twitter, where UK IT cheerleader and avid cyclist Lord Sugar is, like many others, struggling to come to terms with the world of BT customer services.
"Big problem at home with BT Internet," tweeted Sugar this morning. "Real cock-up. Brain dead in call centre, clueless."
"This call centre is for biz lines and so-called VIPs," he continued. "Hate to think what happens to normal customers."
"Will spend today making BT CEO sorry he got out of bed this morn," tweeted an aggrieved Sugar just hours ago.
Like those who have been on the receiving end of Lord Sugar's legendary temper, such as Terry Venables, Piers Morgan and a succession of Apprentice candidates, BT boss Ian Livingston would be wise to go to ground.
Network Noise wonders who would come out on top? Self-made tech entrepreneur Sugar or Glaswegian economics grad Livingston?
In the words of Harry Hill, there's only one way to find out...
Update
It would appear as if Lord Sugar's ADSL woes were solved by a personal call from Livingston himself earlier today.
In light of this new dimension to BT's customer services, I'd like to invite Richard Branson to call me and discuss my router.
Photo courtesy Gavin Rodgers/Rex Features
This was first published in December 2010