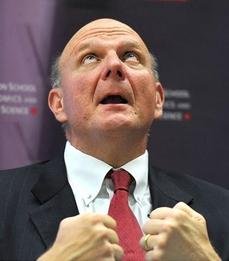 Should the also-rans of the smartphone space, Microsoft and Nokia, team up for market domination?
Adnaan Ahmad, a London-based analyst with Berenberg Bank, thinks so. In fact, he's so confident it could work he wants to buy Steve Ballmer lunch...
Last week, Ahmad posted an open letter to Steve Ballmer and his Nokia counterpart (and ex-Microsoft boffin) Stephen Elop in which he extolled the virtues of a tie-up.
Let's face it, writes Ahmad, the days when Nokia held 50% of the European mobile market and 35% of the US are long gone, and as Elop himself has said, Nokia faces "significant challenges in competitiveness and execution."
Microsoft, meanwhile, despite having a good operating system in the shape of Windows Phone 7 (WP7), is shifting paltry numbers of handsets - 3.1 million units in Q4 compared to 33.3m Androids and 16m iPhones, according to Canalys.
The suggestion is that the two old chums put their heads together and announce a deal whereby Nokia could corner the high-end smartphone space through gaining access to the WP7 IP and the US market.
"In doing so cut your bloated handset business R&D by at least $1bn or 30%, which should add 300bps to your operating margin. Get rid of [Intel JV] MEEGO - it's the biggest joke in the tech industry and will put you further behind Apple and Google."
Says Ahmad: "Focus your high-end portfolio around WP7 and over time you can take the cost down to get into the mid-range. Push Symbian into the low to mid-range smartphone market as quickly as possible to defend market share versus Android's upcoming lowered-cost ecosystem."
The benefits for Microsoft would be vastly increased market share for its software products, according to Ahmad, and millions of dollars less spend on mobile marketing, not to mention exclusivity. And don't forget that hooking up with a high-volume player has paid off for Microsoft before...
"And Steve, if you're successful, we will all forget your quotes from 2007. Do you remember this one: 'Apple is a cute, tiny little niche guy'," he concluded.
Photo courtesy: Rex Features
This was first published in February 2011