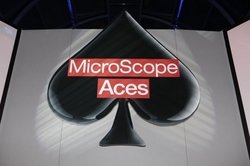 If you hang around here long enough, you might hear me pass some remark about how the network has become the true heart of the IT industry. It's a bit of a cliche, but I believe it to be true.
But this year we plan on proving it.
This morning we launched the 2011 MicroScope Awards for Channel Excellence, the ACEs.
The 2011 ACEs, to be held on 16 June at the Park Plaza Westminster Bridge in London, promise to be bigger and better than ever before.
Last year we awarded two network specific awards, with Networking Distributor of the Year going to Comstor, and Networking Vendor of the Year to Expand Networks.
Both of those categories remain this year, but on top of that we've added three brand new awards that I hope will be of interest to Network Noise readers.
First, the IP/Cloud Reseller of the Year award will recognise a true star among the early adopters in the channel who have invested in cloud technology and the infrastructure needed to deploy it.
Mobility Solution of the Year will go to a reseller that has truly caught the wave of interest in mobility. The winner will be focused on ensuring they can provide a complete mobility solution that can allow customers to work smarter, and safer, on the move.
Finally, IP/Cloud Vendor of the Year will be awarded to the vendor that can prove they are leading the charge to turn this emerging sector to the advantage of their channel partners.
Of course, we will be handing out the usual gongs for enterprise, mid-market and SMB resellers, as well, and if you think you can demonstrate that your network business has got what it takes to walk off with one of these prestigious awards, then I'd encourage you to enter these categories.
I hope to see some of you there on the big night.
You can enter the 2011 awards here.
This was first published in March 2011