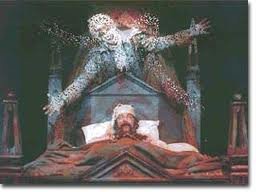 Scrooge-like Council CIOs will be visited by three ghosts this Xmas.
Here's your typical local council IT CIO, lying in bed at night, fretting about his budget.
This Xmas many tight fisted bosses could be visited by three ghosts. The ghost of reckless past, the ghost of reckless present and the spectre of jobless futures.
But help is at hand. Derby City Council has found a great way to save money, without anyone getting hurt. They're making better use of their existing facilities by managing the allocation of rooms more efficiently, creating a hot desking culture and helping people work from home. They've created a better system of dealing with the clients - i.e. the general public - too.
It was all the brainchild of consultancy BusinessSolve, which created a system (WorkSpace Manager) that was easy enough for end users to adopt for scheduling, changing their workspaces and managing resources.
Now BusinessSolve is offering free trials of the system and looking for UK resellers who can demonstrate it and use it to offer services to private and public sector clients.
"This could cut operating costs dramatically," said one council officer.
Perhaps in the drafty old council offices of Britain, the ghosts of recklessness past have finally been exorcised.
Bernard Fenton, head of customer services at Derby City Council, thinks so.
"We have selected the right scheduling system for our needs, as Workspace Manager is powerful, adaptable and agile," says Fenton.

This was first published in December 2010