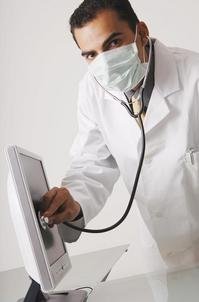 If you've a business trip to Turkey or Russia on the cards, then you might want to think about leaving your laptop at home, say the antivirus bods at Internet security outfit AVG, who have just released a new report detailing some of the most dangerous, and safest places to surf the world wide web.
Based on a tally of Internet attacks for the final week of July, as well as the number of AVG installs per country, the experts found a disproportionate risk of falling victim to a hacker, malware or virus attack in Turkey, where its software stepped in to protect on average, one in 10 users.
This was followed by Russia, with one in 15, Armenia with one in 24 and Azerbaijan with one in 39.
Asian countries such as Bangladesh and Vietnam were also seen as risky, while the US and Pakistan also made the top 10 most dangerous list, with a one in 48 risk.
The UK was, as usual, doomed to mid-table obscurity, ranked 31st with an average of one in 63 users attacked.
In contrast, Taiwan, Argentina and France all came out of the survey well, while Japan, with ultra-high rates of Internet penetration among the general population, was the safest developed country, with one in 404 users being hit.
AVG spokesman Roger Thomson said there were a number of theories as to the extreme variations, with many of the riskier countries having large numbers of Internet cafes and a culture of sharing computers.
However, "it is safe to say that a minority of users account for a large proportion of attacks," he added.
But even the global average of facing a one in 73 chance of attack on any given day does not present fantastic odds, said Thomson, and of course the best defence is to log out of web-based services on public computers when abroad, and if taking your own machine, back up important data and install protection.
The safest country in the world, incidentally, was found to be Sierra Leone, where just one in 692 surfers faced an attack, although to be fair this probably has more to do with being one of the poorest countries in the world, as opposed to having many Internet users.
This was first published in August 2010