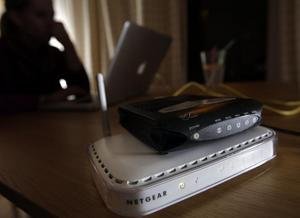 So, school's out for summer and judging by some of the comments on my Twitter stream this morning, broadband speeds have dropped like a stone across the country.
I was interested to read Ofcom's latest research into UK broadband speed this morning, which actually suggests that even though the little darlings are currently monopolising the family computer for Club Penguin, Habbo and NeoPets, speeds are actually on the up.
But there is still a vast discrepancy between the speeds we see advertised on TV and the reality, with Virgin Media really the only provider to come close to offering its advertised speeds.
However, even then the average speed of its 'up to' 50Mbit/s cable service was about 46Mbit/s, and that speed was only attainable between 4 and 6 in the morning. At peak times customers are more likely to get speeds of between 31Mbit/s and 35Mbit/s.
Even though Virgin Media falls short, it is still light years ahead of the competition. TalkTalk's up to 20Mbit/s service delivered average peak hour speeds of around 6Mbit/s, Sky's service delivered 7Mbit/s and BT's, 6Mbit/s.
This also highlights the difference between whizzy new fibre-optic cable infrastructure, and the creaking old copper lines used by DSL-based providers, which in this age of video streaming are no longer fit for purpose and should be ripped up.
In just over two weeks I'll be leaving the fragrant, curry-scented streets of Tooting Broadway and moving to Clapham, and looking around the new flat the other week, I noticed the previous residents had installed Virgin Media.
So I'll break the mask of impartiality for just one minute and say that if you're a geek like me - and let's face it you probably are - if you're lucky enough to have been cabled for Virgin, I would seriously consider switching.
This was first published in July 2010