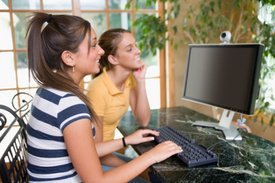 We live in a world of video.
From the near constant monitoring of our urbanised lives by CCTV, to the growing ubiquity of video-conferencing and telepresence, the cameras truly seem to be taking over.
But will it always be that way?
David Foster Wallace's novel Infinite Jest foresees a dystopian future a few years hence where the video-conferencing industry has been brought to its knees by vanity and social anxiety.
In this fictional world, the introduction of videophone technology has meant that people suddenly realise that they can't do all the things they usually do on the phone, such as pick at their teeth, make faces in the mirror, and so on. Video means you must pay undivided attention to the person on the other end of the call.
The second big sticking point for these imaginary end-users was the fact that they now had to look their absolute best to make a simple phone call; they couldn't take a call in their underwear or without make-up, without facing crippling social embarrassment.
In the novel, the end-users at first employ prosthetic masks representing their idealised selves (good margin opportunity there), then full 2D cardboard cut-outs of themselves, and eventually they just transmitted photos down the phone line, at which point everybody realised this was a huge waste of money and went back to good old audio telephony.
Of course, Foster Wallace was playing to the crowd for comic effect, but is his vision, written in 1996, completely implausible? Flash forward 15 years to 2011, when video is becoming such a huge part of our daily lives, I don't think it is.
I would argue that our culture is now even more obsessed with beauty and body image than ever before, with both women and men increasingly under fire with stylised images of the perfect face and perfect body that are - without a strict diet or exercise regime - completely unattainable.
Just look at the photo above if you want evidence; a pretty comprehensive image search produced no images of people who weren't either young or good-looking.
And many people already use webcam technology to create pornography.
Of course, nobody goes into a Cisco TelePresence facility and gets naked (although I hear they have wild Christmas parties at Bedfont Lakes), but let's say you're a home working VAR sales executive about to close a major hosted desktop deal...
You're trapped at home due to volcanoes or snow or whatever, and the meeting has to go ahead, and you have to look perfect. After all, nobody's going to buy from the unshaven guy in the ratty bathrobe.
Doesn't having to get suited and booted and trim your nose hair when you don't plan on leaving the house all seem, well, like a bit of a pain in the arse?
I don't think it's too far-fetched to imagine people ditching the screens because they got a zit, or bags under their eyes.
So have we backed the wrong horse? Is video doomed by our own insecurities? I don't really know the answer to those questions, but I do know this; sometimes it's really, really nice to pick your nose when you're on the phone...
Photo courtesy ThinkStock
This was first published in June 2011