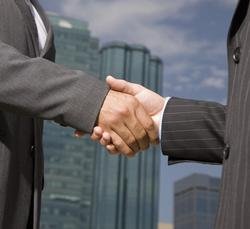 Juniper CEO Kevin Johnson is anticipating the current flurry of M&A activity will continue, and has stoked speculation that Juniper is looking out for a chance to splash the cash, it was reported today.
Johnson told Bloomberg that as an "innovator and share taker", Juniper saw potential opportunities in the market.
His comments echo similar statements made by Oracle CFO Jeff Epstein, who banged the drum in favour of further hardware and software buys at a similar event yesterday.
At the moment, there seem to be two types of network vendor out there: the traditional nuts and bolts plumbers, with a stable of switches and servers; and the more niche specialists, who play in areas such as WAN optimisation or wireless.
The niche vendors - we're talking companies such as Riverbed and Aruba here - are frequently spoken of as targets for bigger vendors trying to bulk up their networking offering.
Old names such as Colubris and Trapeze, which fell to HP and Belden respectively, are excellent examples of this trend.
But given M&A whizz Mark Hurd's move to Oracle, thoughts are now turning to the possibility of consolidation among more traditional networkers.
The analyst community is currently agog at the suggestion that Hurd will look to make big buys at Oracle, in the same vein as HP's multi-billion dollar spending spree on the likes of services beast EDS, networker 3Com and mobility expert Palm.
In the wake of his move to the database software giant, one US trade mag made the unlikely suggestion that Oracle would look to buy Juniper, if it wanted to attempt to match HP in network capabilities, that is.
We reckon Oracle would prefer a services firm for now, but the idea that it might consider a network buy is, to say the least, intriguing.
And Juniper's innovative JUNOS platform would make a glittering prize.
Another potential target that has been mooted more than once is data storage and networking vendor Brocade, which was forced to shoot down rumours that it was being chatted up (ironically by both HP and Oracle) last October.
This week, it saw its shares go flying upwards after reports that IBM CEO Sam Palmisano had turned up on the doorstep with a bouquet and a box of Quality Street.
Whatever happens next, there is little doubt that we are seeing an industry-wide, post-recession round of consolidation. Targets and rumours will come and go, and I am pretty sure that IBM has no plans to buy Brocade, and Oracle isn't sniffing around Juniper either.
But something's got to give, and eventually I'm sure it will.
Photo courtesy Design Pics Inc, Rex Features
This was first published in September 2010