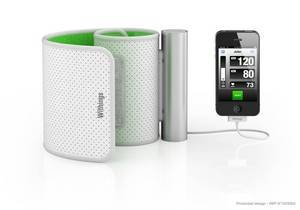 Here's the new Blood Pressure Monitor from Withings. You use the computing power of your Smart phone to manage the blood pressure measuring equipment and the system can automatically phone your doctor if anything odd happens. A brilliant gift for the hypochondriac on the go.
About fifteen years ago, Professor Robert Istepanian invented the first prototype of a mobile health product that used your phone as a medical peripheral. It could measure anything. Pressure. Heart rhythms. Even blood sugar levels.
If you were a diabetic, recovering heart attack sufferer or at risk of a coronary, the mobile could constantly monitor you and even inform your doctor if you took a turn for the worse.
Needless to say, Istepanian found it hard to get funding in the UK for his invention and the project was canned.
Fast forward to today and here we are marvelling at the new invention from French company Withings, which does exactly what Istepanian proposed over a decade ago. Istepanian is now lecturing at Kingston University.
This was first published in April 2011