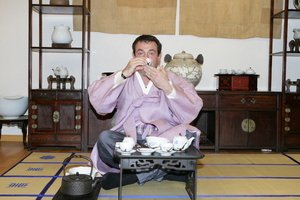 I told the world about SpinVox but no-one listened. Then along came the BBC's glamorous Rory Cellan-Jones, and they all listened. I can't imagine why no one took me seriously!
(Here I am, left, in a kimono)
About the time when the News of the World stealing private moments from anyone with a saleable personal life, I was experiencing my own hacking crisis.
In my case, my privacy was invaded because I was a journalist. I'd been hired as a writer by a multi-millionaire to write some case studies about a telecoms dealer. They liked my work so much that they posted the articles, word for word, on their web site (as was established, when the case finally came to Coventry County Court where I eventually won a pyrrhic court battle).
But as soon as they discovered I was a journalist (boo! hiss!) they decided they hated me. Not only should no good deed go unpunished, they also decided - on receiving the court summons - to embark on a follow up hate campaign involving attempts to access all my phone conversations.
Like an idiot savant, I mounted a brilliant defence against this thuggery, without even realizing what I was doing.
I appointed a man in India to listen in to intercept all my mobile phone messages, type them out and text them to me. I didn't know I was doing this at the time, as the company that offered me the service, SpinVox, assured me it was all done by voice-recognition technology.
If the translations were really achieved by their machines (and I was personally shown them by the CEO, Christine Domecq) they would have been running voice-recognition algorithms 50 years ahead of their time.
I wasn't really bothered either way; I'd rather they were creating jobs for a man in India than for a machine in Marlow.
The point is, the low-techness of the arrangement stopped my calls from being hacked. All my lost phone messages were immediately removed from my inbox, recorded and emailed out to India, where a man hunched over a keyboard with a pair of headphones on typed them out and his broken English was then texted to me.
Funnily enough, the News of the World weren't interested when I told them about SpinVox's smoke and mirrors act. Only the Daily Telegraph took my story, but they stuck it on the City Diary page.
Years later (years!) the BBC and The Guardian picked up on my revelation and SpinVox eventually got in trouble for misleading investors, went into a downward spiral and got bought out.
In its heyday it was Britain's fastest growing telecoms services company and hailed by everyone from government spin doctors to the Sunday Times Top 100 Business list. International telcos and mobile operators were queuing up to buy the service.
I still think the service was (and is) brilliant. If only they'd been honest about it.
Surely, given our new-found insecurities over phone hacking, it's high time someone revived SpinVox. I'd sign up for it.
This was first published in August 2011