If there is one sector of the channel that gets more excited about the world cup than perhaps any other it has to be distribution.
As the sales floors start getting football related promotions and sales days it's a dead certainty, slightly more than England's progress through the finals, that there will be some fun and dressing up in distribution land.
Looking for an example of what it could look like then take a closer look at the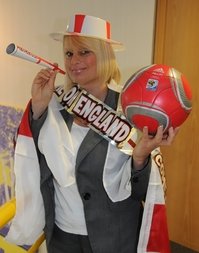 Panasonic promotions running with Nimans where resellers hitting certain sales targets can qualify for three offers and get camcorders and plasma TVs.
You might well be wondering why a promotion, and there are plenty of them in the channel, should merit a blog post.
The reason is for the way that Julie Greaves, Panasonic business manager at Nimans and Rocom, has got into the World Cup spirit (see picture).
The channel is full of enthusiastic people and in a market that often boasts deals are done people to people it's good to see someone putting their personality out there.
For more details of the promotion, which runs until 30 June, resellers can contact Nimans.
Roll on the world cup and roll on more tom foolery in distribution.
This was first published in May 2010