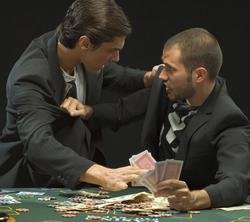 Internet services outfit Griffin Internet is gearing up for its annual channel partner day and poker tournament, which this year will be held at Sandown Park in Surrey in early October.
Attending partners will get a sneak peek at the firm's product strategy and channel roadmap for 2011, and this year the agenda is firmly up in the clouds, with Griffin rolling out new virtualisation products and enhancing its MPLS networking line-up.
Griffin's top-performing partners will get a seat at at the poker table, where they will be playing for prizes donated by BT Wholesale, Ericsson, Softcat and Virgin Media.
"It's a good opportunity to give partners a preview of our plans for 2011 and to have a bit of fun," said Griffin MD Andrew Dickinson (not pictured above)... just so long as he's kept well away from the blackjack table, that is.
This was first published in September 2010