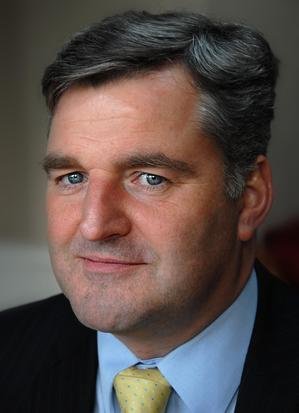 Here's Stuart Finlay, gutsy client director of Thus, who ignored the experts and published his own book, What Would Churchill Do? He's had the last laugh too, as he's made a profit and done his career profile no harm at all.
Those of us married to the publishing industry will have given Stuart Finlay no chance when he decided to write his own book.
Books editors, agents, promoters and shop owners will all tell you that 99 per cent of all books fail to make a profit. Most publishing houses pin their hopes on celebrities these days. So Katie Price is more likely to get a business book deal than the UK MD for Microsoft.
Unless you've been on Big Brother, in Girls Aloud or you're a controversial stand up comic/gameshow host, they won't lift a marketing muscle. And without marketing, you're screwed. The publishing experts say, you don't have a ghost in hell's chance without anyone to plug the book on Radio 4 and kick bookshop arse until all the titles are on prominent end of aisle or window display at Waterstones. (Unless you're the type of ghost that takes a flat fee to pen the autobiography of this year's soap opera icon).
So fair play to Finlay, who refused to be cowed, much like the hero of his business book, Winston Churchill. As sales director for Thus by day, he spent devoted months of his spare time labouring away in the dark, trying to get inside the mind of our great wartime leader and trying to figure out what lessons history has for us in the struggles we find ourselves in today. The logic of What Would Churchill Do is. like all the best schemes, brilliant in its simplicity. What is the technology industry, if not war without the bullets?
Recent sales figures have shown that a new version of the book, What Churchill Would Do has gone ballistic since being specially adapted for the Kindle. Since creating a specialised version for Amazon's electronic reader, Finlay has sold 10 times more copies of his book and is now well into profit. That's more than could be said of most novels, never mind business titles. Part of the electronic book's success might be down to the new pricing for the Kindle. Most traditional publishers offer no discounts at all for an electronic book, even though their overheads are dramatically lower. Finlay has passed his savings on to the customer and the Kindle version of What Churchill Would Do costs no more than a cup of latte. (Provided it's from Costa Coffee)
Other ITC channel luminaries are taking on the publishers at their own game and bringing the disciplines they learned in this brutally competitive market to work in publishing; Darren Spence of Bytes set up his own children's publishing company.
Maybe the IT industry has lessons for other sectors.
Are there any other author/pushers out there?
Reboot: Leading IT in the Information Age by Angelica Mari
This was first published in January 2011